BUCS 2017 Open House Tour and 10th Anniversary Wine & Dine Tour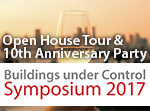 In addition to our Buildings under Control Symposium main event, LOYTEC hosted two side events.
On October 2, we started off with the Open House Tour at LOYTEC HQ, a great opportunity to see LOYTEC at work, to socialize and network and take part in lively expert discussions, while enjoying fine wines and delicious snacks.
On Saturday 7, Hans-Jörg Schweinzer hosted a very special tour to celebrate 10 years of BUCS in his home region of Wachau. On the agenda were a guided tour of Melk Abbey, lunch at Gasthof Prankl with a panoramic view of the river danube, wine tasting at Loisium Weinwelt below the city of Langenlois, and finally dinner at Weinresidenz Sonnleitner, where local products are mixed up with international ingredients for a nice variety.
Enjoy browsing the pictures, and see you next time at BUCS 2019!
Photos: Marco Liotta, Jerome Bossuge, LOYTEC