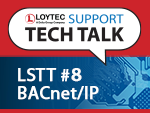 LSTT #8 - BACnet/IP - Wednesday, 26.01.2022 (in English language)
Here you can catch up on the recording (YouTube) of LOYTEC Support TECH TALK #8:
BACnet/IP has developed into the leading communication standard in building automation in recent years. The constant further development of the BACnet standard allows the implementation of ever more powerful functions. Despite all efforts towards standardization (BTL tests, BTL listing, AMEV, ...), communication problems can still arise when devices from different manufacturers interact.
00:00 Intro
01:32 Example 1 – Identification of Device
15:19 Example 2 – Foreign Device (FD)
20:17 Example 3 – BACnet Broadcast Management Device (BBMD)
27:13 Example 4 – Object Instance Numbers
35:58 Example 5 – Priority Array
More information related to LSTT.