Holzhafen Hamburg West, Hamburg, Germany, 2011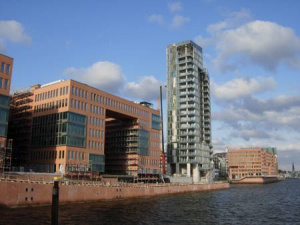 Located between the traditional Hamburg fish market and the ferry terminals, "Holzhafen Hamburg" is one of the top addresses on the river Elbe. This is the location of the office building "Holzhafen West", whose style is inspired by typical Hamburg storage buildings.
The area is a modern mix of working, living, dining, and shopping amidst a traditional port quarter district in close proximity to the legendary "Haifisch-Bar". Spread over 7 floors, the "Holzhafen West" offers an exquisite address for 21 tenants.
 
An outstanding feature of the building is the modern, flexible space concept, which allows large-and small-space solutions according to the actual needs of the tenants. The thermal activation of building component functions with ventilation, sun protection, glass shading, and additional ventilation ensures a pleasant indoor climate in summer, too.
For maximum flexibility in operation and system expansion, the building owner has decided for a LonMark System for room and building automation. The central role in the automation of this building is taken over by the L-INX Automation Server LINX-120 with L-IOB I/O Modules. The freely programmable automation station LINX-120 controls the thermal activation of components and hosts scheduler functions for lighting and sun protection. The system operator at anytime has full access to the automation level for service and maintenance purposes via the Ethernet / IP network.

For local operation of the system by the tenants, the building owner has decided for the L-VIS Touch Panel. Adapted to the tenants needs, the user interface ensures an intuitive operation of schedulers, control parameters and commands. By taking the office floor plan as a basis, the employees find their way quickly. Functions tailored to the tenant avoid misuse of the automation system.
In commissioning the L-INX Automation Server for the project "Holzhafen West", a programmable, fully customized automation solution from LOYTEC was realized.
Interesting Facts
Location
Hamburg, Germany

---

Number of Nodes

NA

---

Topology
LonMark

---

Companies involved

Imtech Hamburg, HRW Gebäudetechnik

---

LOYTEC Components

LINX-120, L-IOB I/O Modules, L-VIS Touch Panel

---

LOYTEC Tools

NA