Rigshospitalet Copenhagen, Denmark, 2011
With more than 1.100 beds, Rigshospitalet is the largest hospital in Denmark and has responsibility for 65.000 yearly inpatients and approximately 420.000 ambulant visits annually.
It is by far the most specialized hospital in Denmark with more than 8.000 employees.

Different LOYTEC products were utilized as core elements in the design and implementation of a control and data acquisition system. The aim was to implement a touch screen based control system for various technical facilities in operation rooms such as:
1) Operating lamps – light intensity and light color (two separate lamps)
2) General room lighting with dimmer function
3) Sunblind
4) Blackout curtain
5) Suction systems (three separate systems)
6) Room temperature condition
7) Room pressure conditions

Existing Scenario: All technical facilities described above were installed and operational, each with its own individual user interface.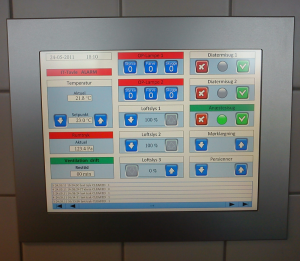 This led to considerable wastage of time, which was critical during surgery and skilled manpower was required as adjustments were complicated. The hospital was therefore looking for a touch screen solution with an integrated graphical user interface that would allow regular staff such as the nurses, surgeons etc. to manage all technical functions themselves during a surgery.

As the individual technical systems were established without any coordination of communication and bus standards utilized, the main requirement was to find a controller capable of handling several different communication and bus standards as well as be hardwired IO. Based on experience from earlier multiprotocol applications and use of LOYTEC components, Grue & Hornstrup focused on the L-INX programmable Automation Server as the cornerstone for appropriate application.
The LINX-120 server is hooked up to the existing technical Ethernet at the hospital, enabling communication with the existing SCADA system managing room temperature and pressure control.
The LINX-120 server is interconnected with a L-IOB I/O module. The L-IOB module is hardwired to three individual suction systems and to a system operating the sunblind and blackout curtains in the operating rooms.
Through a Lon bus system the LINX-120 server is connected to:
a) Two individual operating lamps. As the communication protocol controlling the operating lamps was not in compliance with any normal standard, a tailor made communication protocol was developed and implemented.

b) A LOYTEC L-DALI light control module controlling on/off and dimmer functions, which was installed for the room lighting systems.

c) A LOYTEC L-VIS 15" Touch Panel. Communication via the Lon bus is enabling the user interface to control all systems shown as single line diagrams. A wall mounted LOYTEC L-VIS 15" touch screen was utilized as it enables to set up an easy-to-understand graphical user interface.
---
Interesting Facts
Devices: LINX-120, L-IOB I/O Module, L-DALI, L-VIS
Location
Copenhagen, Denmark
Number of Nodes

NA
Topology
LonMark
Companies involved

Grue & Hornstrup
LOYTEC Components

LINX-120,
L-IOB I/O Module,
LDALI-3E101,
LVIS-3E115
LOYTEC Tools

NA