Monday, 02 May 2016
LOYTEC joins the Delta Electronics Group
Together for Smarter and Greener Building Automation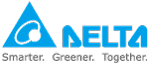 Delta Electronics, Inc., a global leader in power and thermal management solutions, and LOYTEC jointly announced on April 29, 2016, that Delta Electronics' wholly owned subsidiary, Delta Electronics International (Singapore) Pte. Ltd., has acquired shareholdings in Loy Tec electronics GmbH and Innocontrol electronics GmbH (hereinafter referred to as LOYTEC) on April 28, 2016.
In the future, LOYTEC will act as the competence center for integrated building management and control systems within the Delta Group. LOYTEC has a global market reach, especially in Europe and the US. Combined with Delta's sales offices in Asia, particularly in China, synergies are expected to develop from integrating products, technologies, and market reach. 
Read more in the full press release.