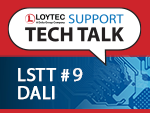 LSTT #9 - DALI (in English language) - Wednesday, 23.02.2022
Here you can catch up on the recording (YouTube) of LOYTEC Support TECH TALK #9:
Since its publication, the DALI standard has been the leading protocol for lighting control in building automation due to the given interoperability of the equipment, cost-effective installation and simple commissioning. With the introduction of the new DALI-2 standard, all DALI components that bear the DALI-2 logo must undergo certification. Nevertheless, various challenges can arise during commissioning.
In this episode of our Tech Talk, we focus on troubleshooting DALI channels, which can occur after a scan or commissioning. Our support team shows how to use the analysis tools built into the LOYTEC L-DALI controller to find and fix common errors. In addition, new functions of the L-DALI firmware 7.4 are discussed, which further simplify troubleshooting.
00:00 Intro
00:15 Content
00:53 DALI-1 vs. DALI-2
03:00 Cabling
03:47 Bus voltage supply
05:14 DALI installation / commissioning
08:12 Analysis tools
10:53 DALI Application
13:03 Problem identification of the CLC application
26:07 Discussion