Training goal
The training participant knows the most important function blocks of IEC 61499 and the LOYTEC room automaton libraries and is able to create corresponding room automation applications in L-STUDIO including relevant graphical projects for visualization and operation via LWEB-802/803. In addition, he is able to import the L-STUDIO projects in LWEB-900 and create parameter views for the parametrization of room automation applications.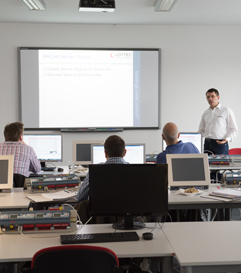 Target group
System integrators
Contents
System design based on a sample project
Creating the IEC 61499 application for the sample project
Creating virtual room operating units and using them with LWEB-802/803
Creating floor plan visualizations
Integration into LWEB-900
Parameterization, testing, and debugging the application
Concepts and features of important IEC 61499 function blocks
Requirements
Knowledge of common room automation functions (constant light control, room climate control, sun blinds control …)
Basic knowledge of bus systems in building automation (LON, BACnet, Modbus, OPC …)
Recommended prior knowledge
Handling of L-INX Configurator (LTRAIN-GATEWAYS: data points favorites, L-IOB I/O configuration …)
Handling of L-VIS Configurator (LTRAIN-GRAPHICS: display elements, display of data point values …)
Please follow this link to download the configuration software, manuals, and also demonstrative video tutorials for free. If you log in, you will get access to the entire download area.
Events for LTRAIN-LROC Trainings
There's no training event scheduled yet. Please contact mailto:This email address is being protected from spambots. You need JavaScript enabled to view it.