OBI Market Nuremberg, Germany, 2016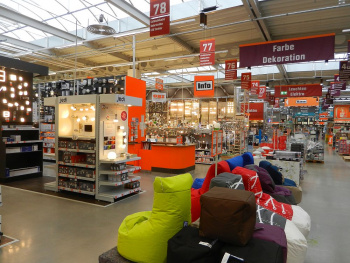 The OBI home improvement store in Nuremberg, a two-story building with a retail area of approximately 12,000 m2, was built in February 2014. For lighting control the building automation system was equipped with a LOYTEC DALI lighting system. The complete automation system was integrated by the German company Nagel Gebäudetechnik GmbH.
The 1,900 DALI luminaires of the system that are distributed all over the building are controlled by LDALI-ME204 controllers that communicate via BACnet/IP. The luminaires are dimmed by the intelligent L-DALI controllers depending on the available daylight. The entire lighting of ground floor, upper floor, garden center and parking are controlled via seven LDALI-ME204 and 19 lux sensors. The lighting system resulted in additional cost savings of up to 15 %. The L-DALI controllers are directly connected to the central building control system.
The entire building control system including lighting is controlled via 12" L-VIS touch panels that are integrated via BACnet/IP. The touch panels also display the current resource usage of the store like water and electricity usage. In addition, the resource usage of the previous day is shown in Euros directly on the display. This gives the store manager an immediate feedback on the savings achieved. If the benchmark values are compared before and after decreasing the dim level of the luminaires, the savings become evident.
Interesting Facts
Location
Nuremberg, Germany

---

Number of Nodes
approx. 240

---

Topology

DALI, BACnet/IP

---

Companies involved

Nagel Gebäudetechnik GmbH

---

LOYTEC Components        

7 x LDALI ME204, 1 x LVIS-ME212, 7 x LDALI-PWR4-U, 7 x LPOW-2415B

---

---

LOYTEC Tools


L-VIS Configurator, L-INX Configurator