Heatherbrae Elementary School, Arizona, USA, 2014
The LOYTEC Competence Partner Mechanical Products BAS (MPBAS) demonstrates the power of LOYTEC systems in conjunction with the manufacturer DeVenthere Industries to deliver a fully integrated, demand controlled ventilation and heat recovery system (DVHR) with added free cooling capability to meet ASHRAE standards 189.1 and 62.1 for Heatherbrae Elementary School.
MPBAS installed the project, controlling 30 new HVAC (Heating, Ventilation, and Air Conditioning) units with associated DVHR modules, 18 variable speed supply and exhaust fans along with integration to the existing campus, LON communicating building automation system. The project had to overcome special considerations with demand controlled ventilation and energy recovery.
MPBAS worked with the equipment provider DeVenthere, implementing an ALL-IP LOYTEC solution for operation and control of the patent pending DVHR
system.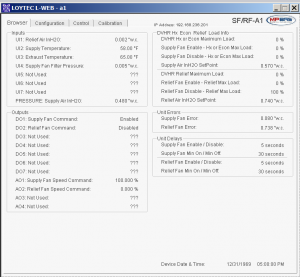 The DVHR requires a sophisticated algorithm to control dampers, maintaining good indoor air quality, while transferring useful energy from exhausted air to intake air. MPBAS Engineering Manager Adam Wolfersberger, commenting on the programming: "LOYTEC's L-LOGICAD, with the powerful capabilities of combining graphical function block programming with structured text permitted the creation of custom function blocks for the complex DVHR algorithms, which proved impossible with graphical block programming alone." Additionally, the product should support BACnet or LON communication in the same platform. LOYTEC's L-IOB controllers fulfill this requirement as the same programming is used regardless of communication.
Another challenge with the DVHR implementation is that to set calibration for dual air flow transducers would have required much coordination and shared labor between MPBAS and the air balancing contractor. MPBAS decided to leverage the L-IOB controllers distributed visualization capability to reduce labor costs. MPBAS created a custom L-WEB project in each LOYTEC controller specifically designed for the air balancing contractor. The air balancing contractor simply plugged into the network and did not require MPBAS support or special software to accomplish their balancing tasks. Therefore, all device configuration, local maintenance, and remote web visualization is available in each device. This is a huge advantage over standard field bus automation systems.
Insert: What is DVHR?
DVHR combines heat recovery and demand control ventilation with airside economizer operation. Typically, these functions are accomplished separately. With the popularity of smaller packaged HVAC equipment, a distributed DVHR system can be employed. Additionally, the manufacturer states that DVHR technology reduces design oversize of heating and cooling equipment in high or low ambient temperature locales. The control is algorithmic, is verifiable, and responds to both metabolic activity and number of space occupants. 
Interesting Facts
Location
Arizona, USA

---

Number of Nodes
-
Topology
BACnet, LON, IP network

---

Companies involved
Mechanical Products BAS (MPBAS), 

DeVenthere Industries

---

LOYTEC Components   
48 x LIOB-484, 3 x L-IP Router
LOYTEC Tools


L-WEB, L-LOGICAD