City of Chandler, City Hall, Arizona, USA, 2017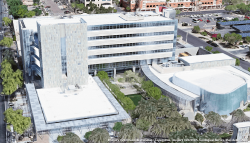 With a recent City Hall project the City of Chandler is once again using LOYTEC products in order to benefit from energy savings. Back in 2012 LOYTEC Competence Partner Mechanical Products Building Automation System, Inc. (MPBAS) completed an impressive project in the region.

The new project involves a building complex consistsing of several buildings: a parking garage, a single story house, and a five-story building. In order to implement a modern retrofit solution several LOYTEC L-INX and L-IOB products are used.
Previous Conditions
Before the modernization there were issues to stabilize temperature conditions especially in large areas. Also the underfloor AHU supply fans did not control together. The underfloor system is a common duct between 2 AHUs on every floor. One AHU did run its VFD much higher than the other, adding this inconsistency across each floor. Furthermore, the supply duct static and supply temperature control did not include any kind of reset factors. The building occupants reported temperature issues throughout all the buildings due to sporadic supply fan and supply temperature control. Another issue was the FT-10 based communication which was very slow and unreliable, and caused controllers to be consistently shown as offline. In addition, the system in use (HMI) was not user friendly and was not a part of the city standard. Most graphics had broken datapoints.
Proposed Solutions
MPBAS's proposed modernization addresses the issues stated above and involves replacing the former controllers with new LOYTEC L-INX controllers (LINX-113 / LINX-121) and also eliminates and breaks apart FT-10 channels. To allow for demand control from the VAVs to AHUs to CP a custom sequence of operations is provided. In addition, an advanced reset functionality was implemented - Supply Duct Static Reset, Supply Temperature Reset, Building Chiller Water Pressure Reset, or Chiller's Chilled Water Supply Temperature Reset. Another achievement of the project was to provide an HMI based on the City's standards with newly designed unit report pages.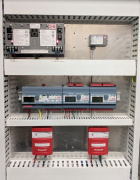 As an IP based system, the communication between the controllers is extremely fast and reliable. The HMI pulls data from all controllers within milliseconds to populate each graphical screen. A further improvement is the addition of Advanced Reset logic to all LOYTEC Controllers - to supply just enough Outside Air, Duct Pressure, & Supply Temperature as requested by all connected FT-10 based VAV systems. Reset logics are also included at the very top level of the central plant, to only provide what is requested for Chilled Water Pressure and Temperature by all connected units with chilled water coils.


Improved comfort and energy savings
The City of Chandler's facilities group is extremely happy with the results. Temperatures throughout spaces are more consistent and with the implementation of all of the reset logic, energy bills have decreased considerably.
Interesting Facts
Location
City of Chandler, Arizona, USA

---

Number of Nodes

-

---

Topology
-

---

Companies involved

MPBAS, Mechanical Products Building Automation Systems Inc.

---

LOYTEC Components

13x LINX-113 Automation Servers
5x LINX-121 Automation Servers
18x LIOB-101 I/O Modules
2x LIOB-102 I/O Modules
17x LIOB-103 I/O Modules
4x LIOB-150 I/O Modules
7x LIOB-151 I/O Modules
1x LIOB-152 I/O Modules
4x LIOB-154 I/O Modules

---

LOYTEC Tools


-