Olympus Oil Rig, Gulf of Mexico, USA, 2012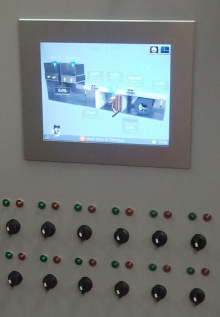 Offshore oil rigs have stringent design considerations for mechanical and control systems. Special materials and durability is a must to last in the conditions of salt air. This requires that the mechanicals have special skills in custom marine builds. Even with harsh conditions, there are many workers living and working on these platforms that need to have comfortable lodging and these people need to monitor and control their systems.
When Shell planned their Olympus TLP rig, they intended to make it the world's first 50 year rig. For this type of longevity Comfort Controls of Beaumont, TX is the provider of comprehensive HVAC control of systems on this rig. Comfort Controls is a marine specialist and on this project all provided mechanical equipment is completely disassembled and custom fabricated with type 316 stainless steel for corrosion protection. All motors and parts down to the last nut and bolt must be examined and modified to meet quality standards for marine use.
To easily visualize these customized systems for local operators, General Manager Jeremy Sisson of Comfort Controls selected 40 LVIS-ME212 BACnet touch panels. L-VIS offers the flexibility of selecting either BACnet IP or MSTP for communication in this multi-vendor BACnet installation.
Using the provided free configuration tool and leveraging the full 64k color with transparency on the L-VIS, Jeremy has provided a very well designed 3d animated graphical user interface to building systems. Maintenance personnel on the rig will clearly see and operate equipment throughout the platform, including review of trending and management of alarming. Various background color schemes can be selected for the right look.
L-VIS in this rig provides a high quality construction, low power consumption solution.
Interesting Facts
Location
Gulf of Mexico, USA

---

Number of Nodes

NA

---

Topology
BACnet

---

Companies involved

Comfort Controls

---

LOYTEC Components
40 x LVIS-ME212

---

LOYTEC Tools

NA