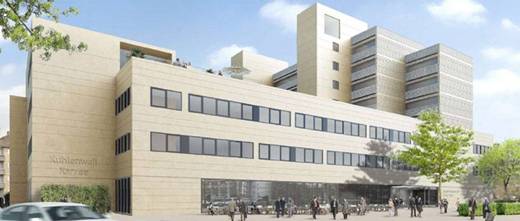 The administration building of Sparkasse Duisburg, situated at a first class location in Duisburg's downtown, became revitalized entirely. In constructional and ecological terms the building was brought to an as-good-as-new-level. Originating from 1976, the office building was provided with a new elegant façade, modern windows with sunblind, up to date heating, new spatial structures and extensive green roofing within a two years construction period. The specifically developed energy concept adds to reducing operating costs of Kuhlenwall Karree and has a favorable effect on the environment.
Energetic measures reach from thermal indoor climate of the building to energy consumption controlling and optimization, building technology and a heat and cooling recovery system. After the completion in August 2011, now 11.100 m² of fully renovated office space on 7 floors are available in an ecologically compatible and comfortable office complex, which is utilized mainly by Sparkasse Duisburg.

To transfer information from the LonMark system and the BACnet network to the building management system, varying solutions by LOYTEC were chosen. On the one hand the LGATE-900 gateway provides seamless integration of the LonMark system and the BACnet network. On the other hand LINX-101 Automation Servers with embedded OPC XML-DA servers are used as field devices, which in serving as gateways enable exchange of information via web services with the overriding building management system. In addition the LINX-101 Automation Servers serve as routers between the IP-852 (Ethernet/IP) channel and the TP/FT-10 channels (twisted pair).
---
Interesting Facts
| | |
| --- | --- |
| Location | Duisburg, Germany |
| Number of Nodes | NA |
| Topology | CEA-709 |
| Companies involved | SYSCOM Automationstechnik |
| LOYTEC Components | 12 LINX-101, LGATE-900 |
| LOYTEC Tools | NA |