Hontai Plaza, Ningbo, China, 2016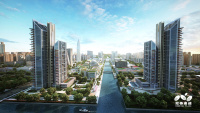 Hontai Plaza, Ningbo: Paragon of Intelligent Building Management
Hontai Plaza is an important urban complex that towers amid the sprawl of China's eastern port, Ningbo. Boasting a total construction area of 0.7 Million square meters, the Hontai Plaza is a hub that includes a premium shopping center, 5A-rated office buildings, 5-star hotel, recreation center, gourmet food market, and leisure facilities that offer fashion and a trendy life style.
As part of the newly developed eastern city of Ningbo, Hontai Plaza's design is "energy efficient, comfortable, green and intelligent". Its effective building automation solution enhances efficiency and reduces unnecessary energy consumption of electrical and mechanical equipment.
There is a great deal of electrical and mechanical equipment operating within the confines of the Hontai Plaza. Complicating the issue are diverse devices in distributed locations with large power loads.
Raising the difficulty of project execution are more than 6,300 control points with integrated subsystems, such as for the monitoring and control of chillers, air-cooled heat pumps, boiler systems, VAV, AHU, ventilation & exhaust, water supply and drainage, intelligent lighting, power distribution, and elevators.
The Hontai Plaza incorporates a shopping center, recreation center, art center, and 5-star hotel. All require a central monitoring and control system that can integrate various subsystems vertically, and different electrical control systems within multiple buildings horizontally, while managing indoor air quality, comfort and lighting conditions to ensure consistent high-quality comfort in multiple buildings.
LOYTEC products support BACnet, LON, Modbus and OPC communication standards and more, which allows a rapid integration of diversified systems such as chiller system, elevators, and more on a single control platform. In addition, LOYTEC's solution can readily control a vast number of devices across multiple buildings, lowering overall investment costs and saving energy.
Operation and maintenance personnel, per his or her authorization level, can acquire real-time data analysis for operation decisions, and respond in time to alarm conditions, so as to ensure a stable operation. This is made possible by simply accessing the integrated LCD displays on the controllers (local control mode), smart phones, tablets (browser mode) or PC (monitoring mode) for a unified management interface across different client devices.
Delta GreenTech has made full use of LOYTEC's stability features, and its solution provides for Hontai Plaza's requirements for overall comfort, security, as well as intelligent control and management.
Interesting Facts
Location

Ningbo, China

---

Number of Nodes

Over 6,300 nodes

Topology

LonWorks FT10

---

Companies involved

Ningbo Construction

---

LOYTEC Components

1 x LINX-110, 20 x LINX-120, 47 x LIOB-150, 237 x LIOB-151, 120 x LIOB-152, 1 x LIOB-450

---

LOYTEC Tools


LWEB-900, LINX Configurator, LVIS Configurator, L-LOGICAD