Zhaoqing Intercity Railway Station, Zhaoqing, China, 2016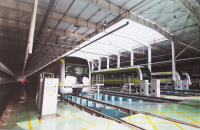 The Foshan-Zhaoqing Intercity Railway opened in China on March 30, 2016, as part of the intercity rail transportation network of the Pearl River delta. The Zhaoqing Railway Station, with a building area of 13,000 square meters, has become an important landmark of Zhaoqing City after its completion.
To meet the demands for an integrated monitoring system at the Zhaoqing Intercity Railway Station, Delta GreenTech (DGC) chose LOYTEC's building management and control solution, which is comprise of the highly expandable single management platform and its automation control solution.
Effective integration can be achieved among diverse electrical and mechanical systems, such as air-cooled heat pumps, air conditioning, VRV, ventilation and exhaust, water supply and drainage, elevator monitoring, smart lighting control, and more. This tackles the inherent difficulty of managing the large and diverse scope of a modern railway station, while optimizing operation and maintenance efficiency. The result is maximum productivity throughout the service cycle of a station, as the system is easily tuned at any time according to a customer's specifications.
LOYTEC automation servers have a high integration capability that fully support backbone communication protocols commonly used throughout the industry, such as BACnet, LonWorks and Modbus, all of which support IP networking and various bus protocols. Easier equipment maintenance and replacement contributes to lower operation and maintenance costs, while meeting customer needs by incorporating their current monitoring and control systems for sewage drainage and fire pumps.
Coupled with an I/O module, a programmable automation server can integrate data points of the subsystem's equipment and achieve real-time system or equipment monitoring and control. Automated features, such as preset alarms, scheduler, and historical trends, save on time needed for equipment management. The integrated display screen and jog dial on the controller is a convenient tool for commissioning and maintenance of the system.
LOYTEC devices provide a graphical user interface that simplifies complicated setting procedures. Operation and maintenance staff can use a single integrated interface to monitor and control the systems in the station.
The web interface literally reduces the need for personal onsite visits to carry out routine system operation or equipment maintenance. Now, a remote computer client can connect anytime, anywhere, for commissioning, maintenance or operation, and relieve staffing efforts. Multi-station monitoring is now a reality with saves on administrative costs while achieving better management efficiency.
DGC not only provides for the integration of hardware and software, but also offers custom-tailored system planning and consultation based on the customer's requirements. In addition, DGC provides adequate training to ensure that facility managers know how to best use and make the most of the system.
Figure: LOYTEC products feature a high integration capability that supports backbone communication protocols commonly used throughout the industry, fully satisfying customer requirements for integration of highly complex monitoring systems.
Interesting Facts
Location

Zhaoqing, China

Number of Nodes

700 nodes

Topology

LonWorks FT10

Companies involved

China Railway No.5 Engineering Group

LOYTEC Components
2 x LINX-121
17 x LIOB-150
15 x LIOB-151
1 x LIOB-152
LOYTEC Tools


LINX Configurator, LVIS Configurator, L-LOGICAD, LWEB-803