Largest-ever cruise ship 'Oasis of the Seas', 2009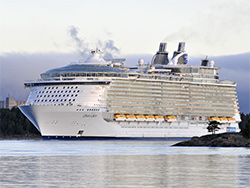 The company Royal Caribbean Cruise Line A/S ordered the largest-ever cruise ship with a capacity of 5,400 passengers. It is 360 m long, 47 m wide, and the highest point is 65 m above waterline. 3,000 cabins for the passengers are equipped with  CEA-709 based room automation controllers to assure an optimal room climate.
LOYTEC's L-IP Redundant CEA-709/IP router was chosen to set up an IP-852 (Ethernet/IP) channel as a backbone for high speed communication. In addition, the L-IP Redundant CEA-709/IP router allows to build a redundant network infrastructure, monitor the room controller, and detect broken network cables. This enables short reaction times in case of failure and thus provides more comfort for the passengers to enjoy the journey.
Interesting Facts
Location
NA

---

Number of Nodes

3.000

---

Topology
CEA-709 with IP-852 (Ethernet/IP) backbone, redundant network infrastructure

---

Companies involved

Honeywell

---

LOYTEC Components

50 L-IP Redundant CEA-709/IP routerLIP-33ECRB

---

LOYTEC Tools

NA