Central Station Berlin, Germany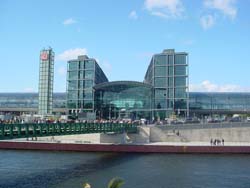 Designed by the architect Meinhard von Gerkan, the station was built on the former ground of the Lehrter Bahnhof and put in operation on May, 28th, 2006 as Berlin Central Station.

The railway building has two main levels serving the rail traffic as well as three connecting and business levels with 15,000 m² shop surfaces for approximately 80 retail businesses. Altogether, 900 people work in the actual station including 150 employees of the 'Deutsche Bahn AG'. Additionally, 42,000 m² of office surface is available.
Interesting Facts
Location
Berlin, Germany

---

Number of Nodes

NA

---

Topology
CEA-709 with IP-852 (Ethernet/IP) backbone

---

Companies involved

Sauter-Cumulus GmbH

---

LOYTEC Components

38 L-IP Router
4 L-Switch LS-13300C
32 L-Switch LS-13333C
75 L-Switch LS-13CB
53 L-Switch LS-33CB
28 L-Term LT-13
122 L-Term LT-33

---

LOYTEC Tools

NA