Training goal
The training participant is able to perform typical automation tasks of building automation, e.g. controlling ventilation systems or heating circuits using L-INX controllers and L-IOB I/O modules.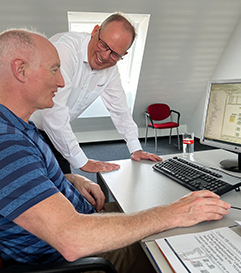 Target group
System integrators, plant programmers
Contents
Introduction into the L-STUDIO Software
Concepts and structure of the IEC 61131 and IEC 61499 language
Creating function logic with data points and graphical systems
Working with function blocks, device types and resources
Testing and debugging of the system
Configuration of schedulers, alarms, and trends
Deploying of logic and graphical projects
Contents of the LOYTEC building automation library*
Working with the LOYTEC building automation library

Requirements (please also see LTRAIN-LSTUDIO-PRE training below)
Knowledge of the set-up and function of HVAC systems (ventilations system, heating control systems...)
Basic knowledge of PLC programming
Basic knowledge of bus systems in building automation (LON, BACnet, Modbus …)
Knowledge of the

LOYTEC data point concept and the configuration of I/O modules (L-INX Configurator)

Knowledge of LOYTEC L-VIS Configurator and of concepts for creating graphical projects (L-VIS and L-WEB).
During the first two days of the training you will learn about the concepts and how to use the software. On day three - a "workshop and exam" day - you will have to implement a control system based on the learned material from day 1 and 2.
Events for LTRAIN-LSTUDIO Trainings
LOYTEC Headquarters in Vienna, Austria  —  Blumengasse 35, 1170 Vienna, Austria
Delta Electronics, Taipei, Taiwan  —  1F, No. 256, Yang Guang Street, Neihu Dist, Taipei, Taiwan
Maintal, Germany  —  Robert-Bosch-Strasse 11, 63477 Maintal, Germany
LTRAIN-LSTUDIO-PRE
Training goal
Pre-training serves as preparation for the L-STUDIO training, as skills and knowledge are taught which will be needed for L-STUDIO training.
Target group
Participants that will take part in the following L-STUDIO training, who have never completed a LTRAIN-LINX training or are not familiar with the LOYTEC tools LINX Configurator and LVIS Configurator.
Content
LOYTEC data point concept
Creating data points for various bus systems in L-INX Configurator
Configuration of schedulers, alarms and trends
Implementation of L-IOB Modules via LIOB-Connect, LIOB-FT and LIOB-IP Bus
Configuration of L-IOB I/Os for various types of sensors and actuators
Connection of sensors/actuators to L-IOB I/Os
Creating of an L-VIS/L-WEB project
Using various display controls
Using the Graphics Library*
Efficient project management by using templates
Requirements
Basic knowledge of bus systems in building automation (LON, BACnet, Modbus,…)
Recommended prior knowledge
Events for LTRAIN-LSTUDIO-PRE Trainings
LOYTEC Headquarters in Vienna, Austria  —  Blumengasse 35, 1170 Vienna, Austria
Delta Electronics, Taipei, Taiwan  —  1F, No. 256, Yang Guang Street, Neihu Dist, Taipei, Taiwan
Maintal, Germany  —  Robert-Bosch-Strasse 11, 63477 Maintal, Germany
*During the training attendees will use LOYTEC libraries. LOYTEC provides licenses for these libraries free of charge. Therefor a managing director or any other legal representative needs to sign the license agreement before the training is attended. Download access for the LOYTEC libraries is granted after we have received the signed