Training goal
The training participant is able to perform typical automation tasks of building automation, e.g. controlling ventilation systems or heating circuits using L-INX controllers and L-IOB I/O modules.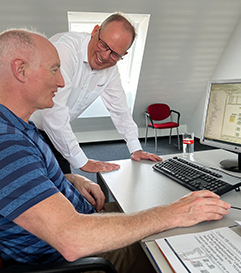 Target group
System integrators, plant programmers
Contents
Functions of the programmable controllers
Creation of a rule application using a PI controller
Configuration of schedulers, alarms, and trends
Integration of L-IOB modules via LIOB-Connect, LIOB, FT, and LIOB-IP bus
Configuration of L-IOB I/Os for different types of sensors and actuators
Connection of sensors/actuators to L-IOB I/Os
Overview of function library
Creation of ventilation control using elements of the function library
Testing and debugging of the system
Extension of a sample project for heating circuit control and adaption of graphical visualizations

Requirements
Knowledge of the set-up and function of HVAC systems (ventilations system, heating control systems …)
Basic knowledge of PLC programming
Basic knowledge of bus systems in building automation (LON, BACnet, Modbus …)
Recommended prior knowledge
Handling of L-INX Configurator (LTRAIN-GATEWAYS)
Handling of L-VIS Configurator (LTRAIN-GRAPHICS)
Please follow this link to download the configuration software, manuals, and also demonstrative video tutorials for free. If you log in, you will get access to the entire download area.
Events for LTRAIN-LINX Trainings
There's no training event scheduled yet. Please contact mailto:This email address is being protected from spambots. You need JavaScript enabled to view it.