Online Conference "Monitoring and data collection solutions with IoT" with MARCOM, 2020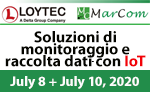 Don't miss out on this month's semniars! Together with MARCOM LOYTEC is organizing two online seminars focussing on "Monitoring and Data Collection Solutions with IoT". Both online seminars will be held in Italian language.
"Soluzioni di monitoraggio e raccolta dati con IoT"
08 luglio 09:30 - 11:30 e
10 luglio 14:30 - 16:30
Please open the pdf for a detailed agenda and also registration details.