Workshop "LOYTEC HVAC Solutions based on Standard Protocols" with Marcom and Belimo in Grassobbio, Italy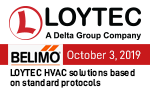 October 3, 2019
Via Zanica 19H,
24050 Grassobbio (BG)
Italia

LOYTEC presents the workshop: "LOYTEC HVAC solutions based on standard protocols" that will be held in Grassobbio/Bergamo on the 3rd of October 2019. We are proud to welcome Mr. Giancarlo Zerbi, BELIMO Regional Application Consultant, who will show integrated HVAC solutions for office buildings. The workshop will be held in Italian language.

Check the PDF below to find out every info you need to know, and how to subscribe to the workshop.