PAMA fahd al ahmad branch, Kuwait, 2015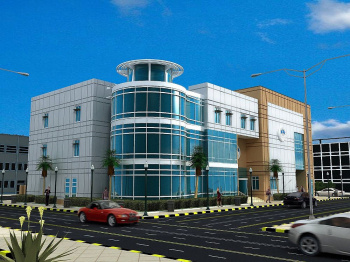 The PAMA fahd al ahmad branch in Kuwait is the seat of the public authority of minority affairs in Kuwait. It is Kuwait's first building that runs with a LonMark integrated building management system. The branch is connected with the headquarters via web interface for monitoring purposes. During the entire project, the ministry of public work was observing the building and the work progress.
The systems integrated are:
Electrical systems:
All the electrical distribution panels are connected with the BMS system for monitoring and controlling (ON/OFF/TRIP).
The lights are controlled through a time schedule that is organized by attendance of the employees, weekends and annual holidays.
All the entrances and exits are monitored through motion sensors connected with the BMS panels for switching on/off lights in case of time schedule failures.
IP CCTV (Closed Circuit Television) is connected through the web interface.
The fire alarm system is integrated through a LonMark interface module. The installed system monitors all the building smoke detectors.
The IP PUBLIC ADRESS is controlled through hyperlinks from the graphical user interface.
Mechanical Systems:
The HVAC system has a third party building automation system that is connected with the LOYTEC system through LonMark for monitoring and controlling the BMS functions.
Pumps such as booster pumps, lifting pumps, sump pumps, and firefighting pumps are being monitored for their status (ON/OFF/TRIP).
Interesting Facts
Location
Kuwait

---

Number of Nodes
-

---

Topology

LON

---

Companies involved

AHMED ISAQ CO.

---

LOYTEC Components
1 x LINX-121, 1 x LIOB-150, 4 x LIOB-152, 2 x LIOB-151

---

---

LOYTEC Tools


LWEB-802