LINX-220/221 Automation Server BACnet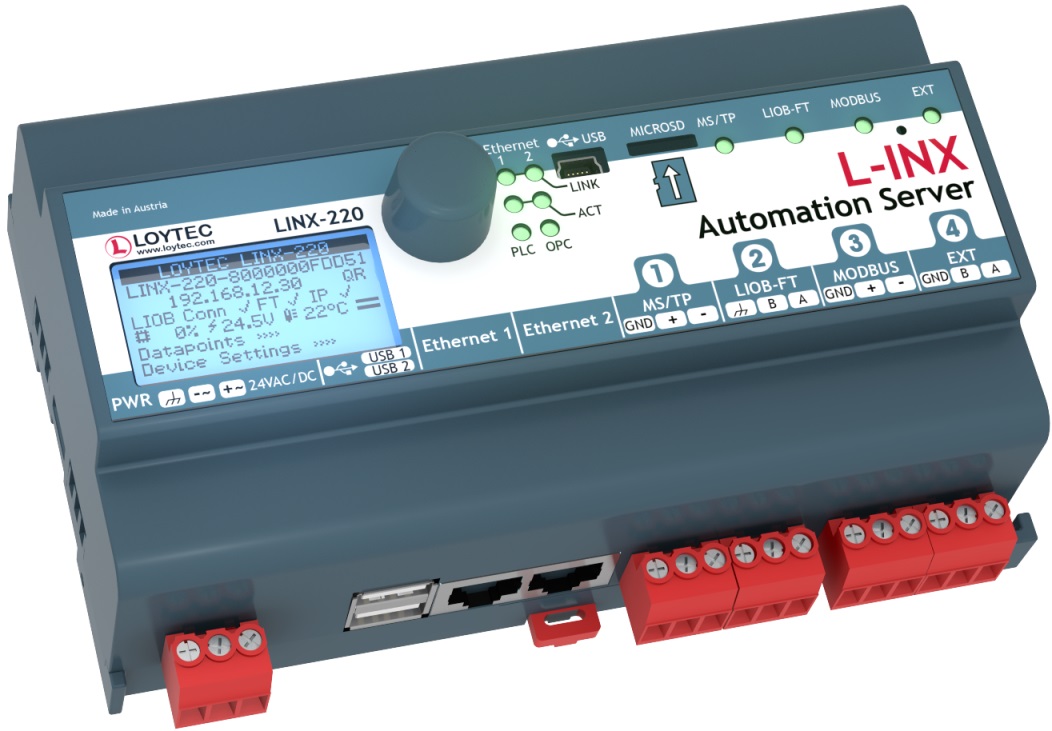 The L-INX Automation Servers LINX-220 and LINX-221 are powerful, programmable automation stations. They can host user specific graphical pages and can integrate physical I/Os through L-IOB I/O Modules via LIOB-Connect, LIOB-FT, or LIOB-IP. Local operation and override is provided by the built-in jog dial and the backlit display (128x64 pixels). Device and data point information is shown on the display via symbols and in text format.
The powerful Automation Servers provide connectivity functions to concurrently integrate BACnet, KNX, Modbus, and M-Bus subsystems. BACnet integration is supported through BACnet/‌IP (Ethernet/‌IP) or BACnet MS/‌TP (RS-485). LINX‑221 Automation Servers feature a built-in BACnet/‌IP to MS/‌TP router including BBMD as well as Slave-Proxy functionality providing the complete feature set of the corresponding L-IP device. Both LINX‑220 and LINX‑221 implement the BACnet Building Controller (B-BC) profile and are BTL tested and WSPcert certified. In addition, the L-INX Automation Servers provide connectivity to KNXnet/‌IP and Modbus TCP via Ethernet/‌IP and to Modbus RTU via RS-485. M-Bus and KNX TP1 device integration needs optional interface modules.
The gateway functionality allows data communication between all communication technologies available on the device. Different technology data points are mapped through Local Connections on the device. The mapping of different technology data points on distributed devices is supported by Global Connections. L-INX Automation Servers also support Smart Auto-Connect™ – the automatic generation of connections to substantially reduce engineering efforts and cost. All technology data points are automatically created as OPC XML-DA and OPC UA data points.
Each L-INX Automation Server is equipped with two Ethernet ports including a built-in Ethernet switch. This allows for building a daisy chained line topology of up to 20 devices, which reduces costs for network installation. Dual Ethernet port devices also allow the setup of a redundant Ethernet installation (ring topology), which increases reliability. The redundant Ethernet topology is enabled by the Rapid Spanning Tree Protocol (RSTP), which is supported by most managed switches.
The L-INX devices provide fully featured AST™ functionality (Alarming, Scheduling, and Trending) and can be integrated perfectly into the L-WEB System.
LINX-220/221 Automation Server BACnet Products

---

LINX-220

BACnet Automation Server with LIOB-Connect, B-BC

Add this product to the Request for Quote
Related documents and software for LINX-220


---

LINX-221

BACnet Automation Server with LIOB-Connect, B-BC, and built-in BACnet/IP to MS/TP Router

Add this product to the Request for Quote
Related documents and software for LINX-221


---

LINX-START-L

Starter kit:1 x LINX‑15x/12x/22x, 2 x L‑IOB I/O Module, 1 x LPOW-2415A, and L‑LOGICAD software license

Add this product to the Request for Quote
Related documents and software for LINX-START-L


---

L-LOGICAD-USB

IEC 61131-3 programming tool, single license, includes USB dongle

Add this product to the Request for Quote
Related documents and software for L-LOGICAD-USB


---

LIOB-A2

L‑IOB Adapter 2 to split the LIOB‑Connect bus using 4-wire cables

Add this product to the Request for Quote
Related documents and software for LIOB-A2


---

LIOB-A4

L‑IOB Adapter 4 to split the LIOB‑Connect bus using RJ45 network cables

Add this product to the Request for Quote
Related documents and software for LIOB-A4


---

LIOB-A5

L‑IOB Adapter 5 to terminate the LIOB-Connect bus

Add this product to the Request for Quote
Related documents and software for LIOB-A5


---

LIOB-100

LIOB-Connect I/O Module: 8 UI, 2 DI, 2 AO, 9 DO (5 x Relay 6 A, 4 x Triac 1 A)

Add this product to the Request for Quote
Related documents and software for LIOB-100


---

LIOB-101

LIOB-Connect I/O Module: 8 UI, 16 DI

Add this product to the Request for Quote
Related documents and software for LIOB-101


---

LIOB-102

LIOB-Connect I/O Module: 6 UI, 6 AO, 8 DO (8 x Relay 6 A)

Add this product to the Request for Quote
Related documents and software for LIOB-102


---

LIOB-103

LIOB-Connect I/O Module: 6 UI, 6 AO, 5 DO (5 x Relay 16 A)

Add this product to the Request for Quote
Related documents and software for LIOB-103


---

LIOB-150

LIOB-FT I/O Module: 8 UI, 2 DI, 2 AO, 8 DO (4 x Relay 6 A, 4 x Triac 1 A)

Add this product to the Request for Quote
Related documents and software for LIOB-150


---

LIOB-151

LIOB-FT I/O Module: 8 UI, 12 DI

Add this product to the Request for Quote
Related documents and software for LIOB-151


---

LIOB-152

LIOB-FT I/O Module: 6 UI, 6 AO, 8 DO (8 x Relay 6 A)

Add this product to the Request for Quote
Related documents and software for LIOB-152


---

LIOB-153

LIOB-FT I/O Module: 6 UI, 6 AO, 5 DO (4 x Relay 16 A, 1 x Relay 6 A)

Add this product to the Request for Quote
Related documents and software for LIOB-153


---

LIOB-154

LIOB-FT I/O Module: 7 UI, 4 AO, 7 DO (5 x Relay 6 A, 2 x Triac 1 A), 1 Pressure Sensor

Add this product to the Request for Quote
Related documents and software for LIOB-154


---

LIOB-550

LIOB-BIP I/O Module: 8 UI, 2 DI, 2 AO, 8 DO (4 x Relay 6 A, 4 x Triac 1 A)

Add this product to the Request for Quote
Related documents and software for LIOB-550


---

LIOB-551

LIOB-BIP I/O Module: 8 UI, 12 DI

Add this product to the Request for Quote
Related documents and software for LIOB-551


---

LIOB-552

LIOB-BIP I/O Module: 6 UI, 6 AO, 8 DO (8 x Relay 6 A)

Add this product to the Request for Quote
Related documents and software for LIOB-552


---

LIOB-553

LIOB-BIP I/O Module: 6 UI, 6 AO, 5 DO (4 x Relay 16 A, 1 x Relay 6 A)

Add this product to the Request for Quote
Related documents and software for LIOB-553


---

LIOB-554

LIOB-BIP I/O Module: 7 UI, 4 AO, 7 DO (5 x Relay 6 A, 2 x Triac 1 A), 1 Pressure Sensor

Add this product to the Request for Quote
Related documents and software for LIOB-554


---

LPOW-2415A

LIOB-Connect Power Supply, 24 VDC, 15 W

Add this product to the Request for Quote
Related documents and software for LPOW-2415A


---

LPOW-2415B

Power supply unit with power connector 24 VDC, 15 W

Add this product to the Request for Quote
Related documents and software for LPOW-2415B


---

L-MBUS20

M-Bus level converter for 20 M-Bus devices

Add this product to the Request for Quote
Related documents and software for L-MBUS20


---

L-MBUS80

M-Bus level converter for 80 M-Bus devices

Add this product to the Request for Quote
Related documents and software for L-MBUS80


---

LKNX-300

KNX Interface, which allows the integration of KNX (EIB) devices on TP1 bus into LOYTEC LINX-12x/15x/22x, LROC-100, and LGATE-95x.

Add this product to the Request for Quote
Related documents and software for LKNX-300


---

LWLAN-800

Wireless LAN Interface IEEE 802.11bgn

Add this product to the Request for Quote
Related documents and software for LWLAN-800


---

LENO-800

EnOcean Interface 868 MHz Europe

Add this product to the Request for Quote
Related documents and software for LENO-800


---

LENO-801

EnOcean Interface 902 MHz USA/Canada

Add this product to the Request for Quote
Related documents and software for LENO-801


---

LENO-802

EnOcean Interface 928 MHz Japan

Add this product to the Request for Quote
Related documents and software for LENO-802