Product News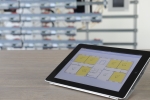 LWEB-900 Integrated Building Management System
The integrated building management software LWEB-900 provides a user interface to manage and operate a LOYTEC building management system. 
For more information click here.
eu.bac System Certification
LOYTECs Extension Building is Certified by eu.bac
Thanks to the efficiency of the L-ROC system LOYTEC received an eu.bac Certification Mark of the highest class A+ for its new building in Vienna.
For more information click here.
Product News
LWEB-803 replaces LWEB-800
LWEB-803 has been developed as a desktop version of the LWEB-802 web application and is based on the same source code. This has the advantage that the behavior of LWEB-802 and LWEB-803 is identical. All functions as well as the look and feel of the graphical pages of the desktop version LWEB-803 are the same as in the web application LWEB-802.
For more information click here.