Event Review: BACnet Building Automation Conference 2019 in Frankfurt, Germany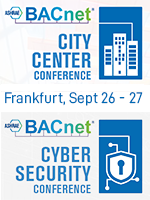 BACnet Building Automation Conference was an excellent opportunity to meet the LOYTEC team in Frankfurt. The expo is a unique place to be for experts of integrated building automation: planners, constructors, operators, facility managers, technical managers, integrators and consultants. The twin exhibition on "Cyber Security in Building Automation" and "System Integration in City Centers" provided information on innovations and success stories in building automation.
We would like to highlight the presentiton of Danijel Nuic "Network Security and IoT in Building Automation - IP network planning for BAS and BMS" and also the elevator pitch introducing LOYTEC by Harald Hasenclever. In addition, Mr. Da Ros presented a case study of a big furniture store company in Italy "The Logistic Center in Piacenza - Smooth Building Automation Integration for Commercial Buildings". Please have a look at some photos!
---