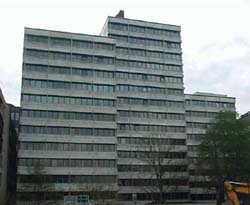 One of the most complex CEA-709 installations in Europa was realized in the new building of the KfW Frankfurt by the ARGE KfW-MSR, consisting of the two TAC partners SYSCONTROL GmbH and GTS CONTROL SYSTEMS GmbH. The project focused on an alterable floor plan and highly flexible functionality. It has to be possible to modify the floor plan swiftly and in a flexible way.

To realize this concept more than 1800 CEA-709 nodes and 765 TAC Xenta Controllers were interconnected with a high-performance network infrastructure. This infrastructure is formed by 13 L-Switch multi-port router from LOYTEC and 10 CEA-709/IP router.

The main focus of the project was the implementation of a modern room controlling concept with integrated, seasonal lighting and shading in addition to the usual areas of HVAC. The control of the individual devices for lighting, shading, heating, and cooling is fully automated when the room is occupied. The lighting is adjusted depending on the room depth and can be further dimmed according to the requirements of the work place.

All information of the 13.500 data points are available anytime at the TAC Vista building management system. High performance is achieved with the help of an optimal designed network infrastructure. The communication on each floor (FT-10) is routed through L-Switch devices. The individual L-Switch devices are connected via TP-1250 channels to an CEA709/Ethernet router. These routers are connected via suitable converters to a fiber optic cable that forms the Ethernet backbone. The health condition of the entire network can be monitored in real-time with the LOYTEC LSD tool.

The entire project was completed within 12 months.
Interesting Facts
Location
Frankfurt, Germany

---

Number of Nodes

approx. 1800 plus 765 LonMark certified TAC Xenta Controller; 13.500 data points

---

Topology
FT-10 on each floor, TP1250 to connect L-Switch devices and CEA-709/Ethernet routers, Ethernet backbone with fiber optic cable

---

Companies involved
SYSCONTROL GmbH
TAC Control Systems

---

LOYTEC Components

13 x L-Switch, multiport router

---

LOYTEC Tools

LPA protocol analyzer and LSD system diagnostics tool