CHG-Meridian Weingarten, Germany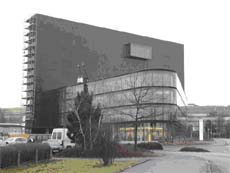 The ground-breaking ceremony for the new office building took place on February 1st 2001 in Weingarten in Franz-Beer road. The first spade was dug by the mayor of the city Weingarten, Gerd Gerber. The eight-storied office building with a gross store area of 10.500 m² will be finished in spring 2003.

The innovative and progressive motto of the company is reflected in the architecture of the building – technology oriented and open for change. The principal office was moved from Berg to Weingarten in order to satisfy the steadily growing demand for office space but also to visualize the company philosophy with the new building. The new company headquarters are a representative building for CHG MERIDIAN and a prominent mark at the entrance to Weingarten.
 
The building complex is distinguished by two main characteristics: a nose part completely in glass as well as a 34 meter high building façade from stone and glass. The modern building is equipped with cutting edge technology. Floor one to seven will hold offices (approx. 200 jobs), while the eighth floor is reserved for conference and seminar rooms. Guests are welcomed at ground floor in a light-flooded entrance and spacious lobby with adjacent water area. The four-storied nose part of the building is rented to related companies.
 
The new office building originated in a semi-open competition, organized by CHG-MERIDIAN. Joachim Daller, architect from Stuttgart, won this competition in May 2000 and was awarded the contract to erect the new building. The building was planned by Joachim Daller and Walter Huber.
Interesting Facts
Location
Weingarten, Germany

---

Number of Nodes

approx. 1.600, approx. 500 by Regulex

---

Topology
CEA-709/IP backbone with 5 IP-Router (CEA-709/IP to TP-1250); 10 L-Switch (TP-1250 to 4 x FT-10); Building automation server (LNS server, web visualization)

---

Companies involved
Regulex Automation GmbH
HWS Control Systems GmbH

---

LOYTEC Components

10 x L-Switch, multiport router

---

LOYTEC Tools

LPA protocol analyzer and LSD system diagnostics tool