Wangjing International Commercial Center, Beijing, China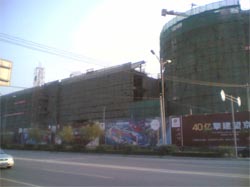 The $500 million Wangjing International Commercial Center, approximately 120,000 square meters, is located in the famous Wangjing area, which is the largest modern residential area of Beijing, China.
The International commercial center consists of five buildings, housing shops, apartments, and offices. It is the largest modern shopping and entertainment center in the Wangjing area. The central square of the buildings has 7000 square meters.
Many well-known shopping and entertainment enterprises from China and Korea will rent these buildings, such as the famous Chinese Guomei Home Appliance Town, Beijing Huatang Shopping Mall, Korea famous towns, etc.
Mr. Yi Zhuo, CEA-709/IT expert/consultant from Beijing, China said that the BAS of Wangjing International Commercial Center is designed to use the world leading LonMark standard open solution and high performance open network infrastructure. CEA-709 networks are divided into different subnets using plug&play L-Switch router for better network performance, higher reliability and easier network management. A free LSD Tool is very easy to use in troubleshooting together with NIC709-PCI network interface and L-Switch router. TAC Vista® building control system also ensures true interoperability of products from multiple vendors: CEA-709-based from top to bottom.
Mr. Liu Liwen, general manager of Beijing Master Control System Co., Ltd - the general contractor - said: "We are happy to use such a world leading true open system, which is very flexible, low-cost, reliable, easier to install and diagnose. We could freely choose products according to performance, price, quality, support and service any time. We expect we will continue to use such LonMark standard open systems and high performance network infrastructure for our projects later on."
Interesting Facts
Location
Wangjing Area, Chaoyang District, Beijing,China

---

Number of Nodes

5 buildings, >100 nodes

---

Topology
FT-10 sub-channel, TP1250 backbone

---

Companies involved
Beijing Master Control System Co.,Ltd;
Beijing Erdos Intelligent Technology Co.,Ltd;

---

LOYTEC Components

35 x LS-33C, router
1 x NIC709-PCI, network interface
12x L-Term, network termination

---

LOYTEC Tools

LSD system diagnostic tool