Sparkasse Ingolstadt, Germany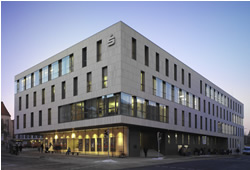 After a two-year construction period in the center of the upper-Bavarian Danube city the head office of the Sparkasse Ingolstadt was inaugurated. The extensively reorganized building has an effective area of 2000 m2 distributed over four floors with approx. 160 offices.
As desired by Sparkasse Ingolstadt and the internal technical departments of Sparkasse, an open and integrated system was installed. In accordance with the planning of the responsible consulting engineers a trend-setting and lasting building automation based on ANSI/EIA-709 with an IP-852 Backbone was integrated, which uses the synergies between climatic regulation, lighting and sun protection and simplifies the operation as well as the maintenance of the technical plants.
Interesting Facts
Location

Ingolstadt, Germany

---

Number of Nodes

NA

---

Topology
NA

---

Companies involved
ELKA, NV-Connection

---

LOYTEC Components

LS-13CB, CEA-709 Router
LS-13333CB, CEA-709 Multiport Router
LIP-1ECTB, CEA-709/IP Router
LT-13, Netzwerkterminator
LT-33, Netzwerkterminator

---

LOYTEC Tools

NA