Landesbank Baden-Württemberg (LBBW), Stuttgart, Germany, 2009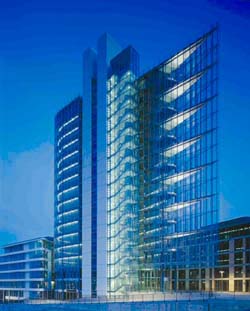 The building of the 'Landesbank Baden-Württemberg LBBW' with a floor space of 58,000 m² is located 300 meters away from the central station of Stuttgart, Germany. The most important goal was to create a comfortable room climate for the employees and at the same time keep the operating costs low. As an example, sunblinds shade unoccupied office rooms to avoid heating-up and a year-round shading program avoids unnecessary operation of the sunblinds.

Likewise important is the flexible room solution to keep costs as low as possible in case of a floor plan reconfiguration, while the new room configuration is available on short call.
Interesting Facts
Location
Stuttgart, Germany

---

Number of Nodes

NA

---

Topology
CEA-709 with IP-852 (Ethernet/IP) backbone

---

Companies involved

Honeywell

---

LOYTEC Components

40 LIP-Router

---

LOYTEC Tools

NA