Governor Rockefeller Empire State Plaza, Albany, USA, 2009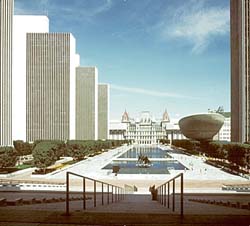 The Governor Nelson A. Rockefeller Empire State Plaza (commonly known as the Empire State Plaza or less formal as The South Mall) is a complex of several state buildings in downtown Albany, New York State. The complex of buildings, a brainchild of Governor Nelson Rockefeller, was built between 1965 and 1978. It was the last major project of the architect Wallace Harrison, "the greatest architect of the twentieth century" as Nelson Rockefeller characterized him. Part of the complex is the Erastus Corning Tower or simply the Corning Tower. The skyscraper is the tallest building in New York State outside of New York City. The building dominates the Albany skyline with its glass, marble and angular forms.

Honeywell has been maintaining the state capital building for 30 years and was given the contract to upgrade the environmental part of the building for the renovation project. Honeywell chose to use LOYTEC infrastructure products to insure a reliable and high speed network based on IP852 (Ethernet/IP).
Interesting Facts
Location
Albany, New York State

---

Number of Nodes
NA

---

Topology
CEA-709 with IP-852 (Ethernet/IP) backbone

---

Companies involved
Honeywell

---

LOYTEC Components
more than 50 LIP-3ECTB

---

LOYTEC Tools
NA