Penal Institution Schwerte, Germany, 2015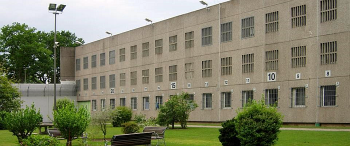 The LOYTEC Competence Partner AAG GmbH from Wülfrath in Germany has been awarded the contract for the re- and new construction of control cabinets for the plant automation of the penal institution Schwerte.
In the course of the project, AAG re- respectively newly constructed a total of 8 control cabinets. An LVIS-ME200 Touch Panel was mounted in each cabinet door and is used to operate the system. For four control cabinets, the existing DDC (Direct Digital Control) was replaced by according LOYTEC devices. The already existing cabinet itself remained. Further three control cabinets, the DDC modules including the cabinet were newly built. One plant was completely new constructed including LOYTEC's DDC modules, the plant itself and the according cabinet.
The integral solution includes the following features:
Control of the heating
Control of the ventilation system
Operation of the system via touch panels
mounted in the control cabinet doors
Integration of pumps via BACnet MS/TP
Connection to the control system StruxureWare
from Schneider via BACnet/IP
---
Interesting Facts
Devices: LINX-221, LINX-210, LIOB-550/551/552, LIOB-580/581, LVIS-ME200

Location
Schwerte, Germany
Number of Nodes
-
Topology
BACnet MS/TP, BACnet/IP
Companies involved
AAG GmbH, Wülfrath
LOYTEC Components
1 x LINX-221,
1

x

LINX-210,
1

x

LIOB-550,
1

x

LIOB-551,
4

x

LIOB-552,
1

x

LIOB-580,
2

x

LIOB-581,
8

x

LVIS-ME200
LOYTEC Tools

L-LOGICAD