Hotel Royal Óbidos, Portugal, 2014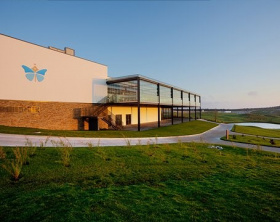 The five-star Evolutee Hotel is located in the western region of Portugal. The hotel is part of the Royal Óbidos Spa & Golf Resort. It has 40 rooms including two suites. The hotel further offers a spa, health club, indoor pool, several restaurant and bars, a conference center with a capacity of 315 people, and an outdoor pool. Located on the coastal strip of Portugal, 45 minutes from Lisbon, it occupies an enviable geographic location, offering superb views of the Atlantic Ocean, golf course, and Lake Óbidos.
Only materials and techniques that meet environmental standards were used for the construction of the building, along with the efficient technology of LOYTEC that was implemented by the LOYTEC systems integrator RACE.
The integral solution includes the following features:
Central production and distribution of hot and cold water
Integration of the climate control system via Modbus
Control of the ventilation system
Measurement of thermal energy
Control of the Lighting
Energy and water metering and respective reports
Monitoring of power distribution blocks and generator groups
Integration of fan coils via BACnet MS/TP
---
Interesting Facts
Devices: LINX-220, LINX-210, LINX-110, LIOB-450, LIOB-451, LIOB-452, L-MBUS

Location
Óbidos, Portugal
Number of Nodes
105
Topology

BACNET MS/TP, Lonworks FT10, IP network, Modbus RTU, M-Bus

Companies involved
RACE, Hotel Royal Óbidos
LOYTEC Components
3 x LINX-220,
4 x LINX-210,
1 x LINX-110,
1 x LIOB-450,
33 x LIOB-451,
31 x LIOB-452,
1 x L-MBUS
LOYTEC Tools

LWEB-900