Passeio das Águas Shopping, Brazil, 2013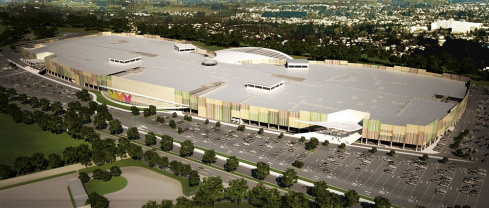 Sonae Sierra, the international shopping centre specialist, is expanding the Shopping Mall's portfolio in Brazil, developing a new project in Goiânia, the "Passeio das Águas Shopping", which is one of the largest commercial centers of South America. It has 779,000 m2, 259 shops, 4,000 parking places and is managed directly by the owner.
The shopping mall uses the most modern eco-efficient solutions that significantly reduce waste of energy and water consumption, by fulfilling the rigid rules of the ambient management system of Sonae Sierra Brazil.
The HVAC, lighting, and energy metering systems, installed and developed by RACE, are controlled and monitored by LOYTEC components, more precisely by L-INX Automation Servers, L-IOB I/O Controllers, and the SCADA system LWEB-900 that allows the maintenance staff full control and efficient monitoring of the systems. The Building Management System runs on a fully redundant IP network to ensure fast and reliable communication.
The integral solution includes the following features:
Control of the cooling system with LON integration
Control of the ventilation system
Control of the entire lighting
Detection and forwarding of alarms
Energy and water metering and reports
Monitoring of mechanical transportation
Monitoring of pumping water systems
Fire detection integration via Modbus
Interesting Facts
Location
Goiânia, Goiás, Brazil

---

Number of Nodes

390

Topology
BACNET MS/TP, Lonworks FT10, IP network via Glass Fiber, Modbus RTU, M-Bus

---

Companies involved
RACE, Sonae Sierra Brazil

---

LOYTEC Components
5 x LINX-220, 25 x LINX-210, 1x LINX-110, 18 x LIOB-100, 6 x LIOB-101, 12 x LIOB-102, 102 x LIOB-150, 31 x LIOB-151, 17 x LIOB-152, 3 x LIOB-153, 1x LVIS-3E112, 5x L-MBUS

---

LOYTEC Tools


LWEB-900