Landesmesse Stuttgart, Germany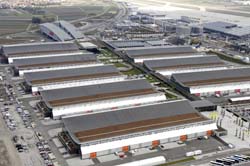 The 'Landesmesse Stuttgart' is a state-of-the-art showground with architectural and functional convincing buildings. A widely ramified CEA-709 network takes care of lighting and shading. The showground with a total area of 100.000 m² is located beside the Airport Stuttgart and consists of seven exhibition halls with 10.500 m² exhibition space each and an extra high exhibition hall with about 26.800 m² space. The 'Landesmesse Stuttgart' chose a reliable and flexible LonMark system to meet the highest standards of today's exhibition centers. All parts of the buildings are connected via an Ethernet/IP (IP-852) network. Multiport L-IP Routers establish the connection between the TP/FT-10 channels and the Ethernet/IP (IP-852) backbone.
The exhibition halls are controlled by LVIS-3E100 Touch Panels. All lighting and sun-protection applications in the entire hall can be operated manually by the Touch Panels. The LVIS-3E100 devices also allow access to the media and technical rooms during trade fairs. The building owner has utilized the flexibility of the Touch Display to create a graphical interface for intuitive handling of his applications. Apart from controlling the system, status indicators visualize lighting, sun-blinds, and even the central fire alarm system.
Interesting Facts
Location
Stuttgart, Germany

---

Number of Nodes

> 3.000

---

Topology
TP/FT-10 Channels (free Topology) with IP-852 (Ethernet/IP) Backbone

---

Companies involved
SPEGA, Hörburger AG (Leonberg), ARGE Elektro (Imtech, Siemens, Schlagenhauf, Speidel)

---

LOYTEC Components

25 L-IP Router LIP-3333ECTB
14 L-VIS Touch Panels LVIS-3E100

---

LOYTEC Tools

NA