Press
Thursday, 03 February 2011
Participation in International Industry Leading Trade Fair for Building Automation AHR EXPO '11
Presentation of new L-INX Automation Servers attracts interest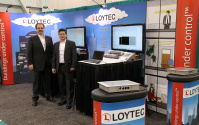 AHR EXPO 2011, a worldwide attraction for professionals in the building automation and building management industry, just closed its doors in Las Vegas. LOYTEC once again was present at the show, which with about 1,900 exhibitors from 31 different countries ranks among the world's major exhibitions for heating, ventilation and air conditioning.
The centre of attention was the presentation of the LOYTEC L-INX 150/151 Automation Servers with stackable L-IOB I/O extension modules along with the L-WEB system.
Read more in the full press release or download the photos in high resolution.
Wednesday, 05 January 2011
LOYTEC Expands Worldwide Competence Partner Network
Increased exposure on three continents
Austria's LOYTEC electronics, supplier of automation solutions and network infrastructure products for innovative building automation systems, intensifies cooperation with local, independent system houses and system specialists in Europe, Asia and the US. Strategic alliances for networked building automation systems have been reached with Hörburger Control Systems and Heger Building Automation in Germany, Persy Control Services in the Netherlands, the Russian Arktika Group, Japan's Network Corporation, Controls Unlimited and MPBAS Building Automation, two companies based in the US.
Read more in the full press release or download the photo in high resolution.
Wednesday, 10 November 2010
LOYTEC: Best of the Year 2010
Winner at LonMark International Awards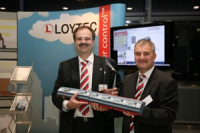 For the second time within a few days LOYTEC electronics is pleased to receive another prestigious and well-recognized award: At the annual LonMark International Awards the LINX-121 Automation Server was awarded "Best Infrastructure Product of the Year 2010".
The ceremony took place on November 8th during the annual LONCOM Community Event in Frankfurt, Germany. Hans-Jörg Schweinzer, president of LOYTEC electronics, and sales manager Dirk A. Dronia obviously were happy to have won the best-product-ranking of this international competition once again like they did already last year, that time with the LVIS Touch Panel LVIS-3E115.
Read more in the full press release or download the photo in high resolution.
Friday, 05 November 2010
Winner of Austria's Leading Companies 2010 Award
LOYTEC once again among the most successful companies of Austria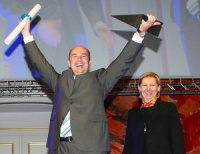 Since twelve years by now, Austria's most successful companies are selected every year to get rewarded with the title "Austria's Leading Company". And once again LOYTEC electronics GmbH could conquer the winner's pedestal: First Place in the state of Vienna within the rating of small enterprises. The countrywide ranking resulted in the excellent Third Place. After the two victories in 2008 and 2006, LOYTEC for the third time could succeed and win this well-recognized and prestigious competition of Austria's business elite.
Read more in the full press release or download the photo in high resolution.