Wednesday, June 05 2019
LOYTEC Input Devices achieve DALI-2 certification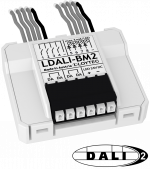 LOYTEC electronics is proud to announce that its LDALI-BM2 Pushbutton Couplers and its LDALI-MS2 Multi-Sensors successfully passed the DALI-2 certification process.

LOYTEC is one of the first companies in the world and the first supplier in Europe to successfully implement the recently available DALI-2 certification for DALI-2 input devices.
Read more in the full press release.